lunchbox cakes if you're anything like me, you're always on the lookout for new and interesting recipes to try. I love to cook, and I love to eat, so finding new recipes is always a fun adventure for me. I recently came across a blog post that featured some lunchbox cakes that looked so good, I just had to try them out for myself. And let me tell you, they did not disappoint! These cakes are not only easy to make, but they're also absolutely delicious. If you're looking for a new recipe to try, or if you're just looking for something to bring to your next potluck, look no further than these lunchbox cakes. Trust me, they'll blow your mind!
Chocolate Peanut Butter Cup Cake
This Chocolate Peanut Butter Cup Cake is a lunchbox classic with a twist! We've added a layer of peanut butter frosting to make it even more delicious. This cake is perfect for any peanut butter lover out there!
Banana Caramel Cake
This Banana Caramel Cake is the perfect lunchbox cake! It's moist, flavorful, and full of healthy ingredients. Plus, it's easy to make and can be made ahead of time.
Ingredients:
1 cup whole wheat flour
1 cup all-purpose flour
2 teaspoons baking powder
1 teaspoon baking soda
1/2 teaspoon salt
1 cup mashed bananas
1/2 cup unsweetened applesauce
1/4 cup honey
1/4 cup brown sugar
1 egg
1 teaspoon vanilla extract
3/4 cup low-fat milk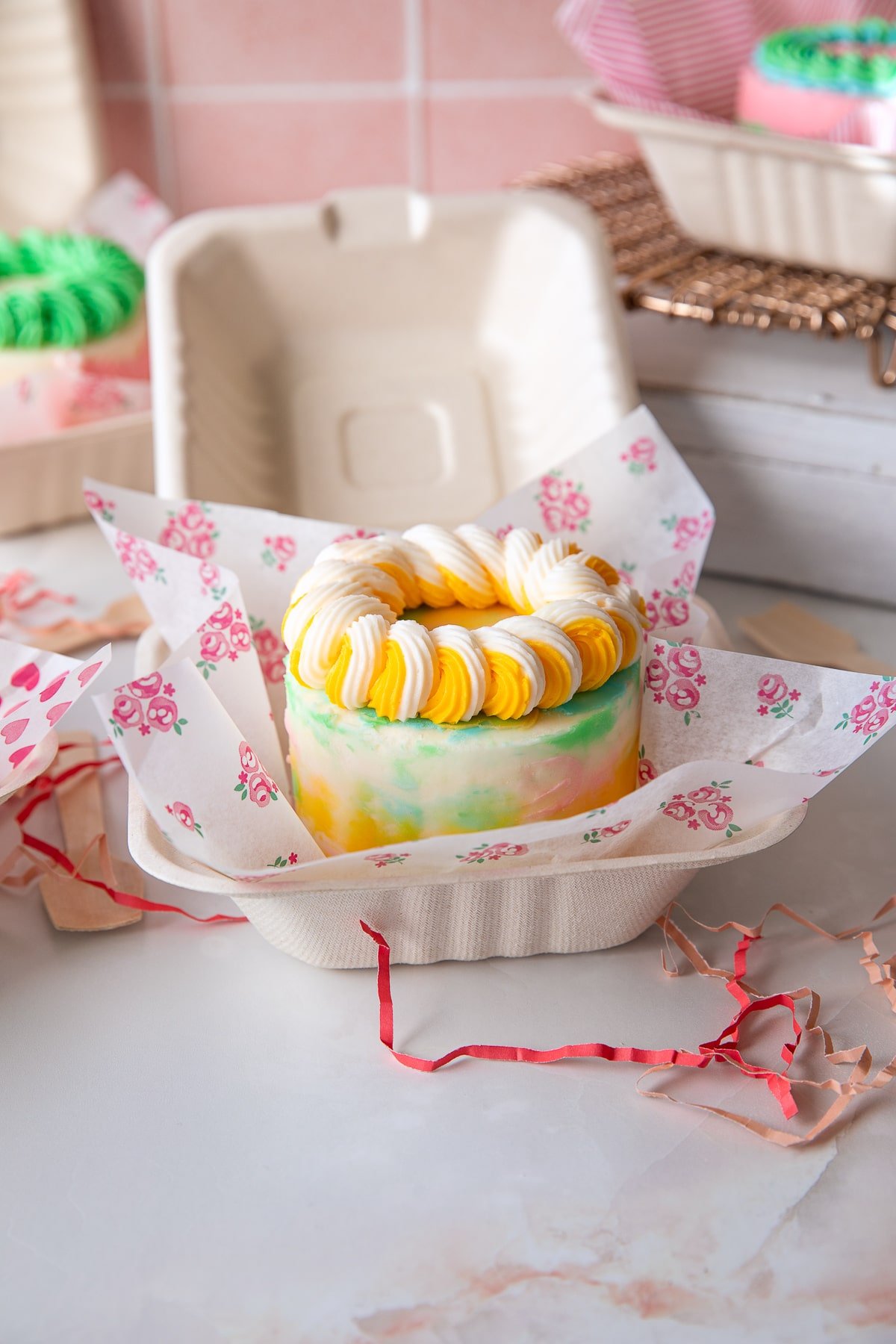 For the caramel topping: 1/4 cup brown sugar 2 tablespoons butter 1 tablespoon corn syrup 1/2 teaspoon vanilla extract Directions: Preheat oven to 350 degrees F (175 degrees C). Grease and flour one 9×13 inch baking pan. In a large bowl, combine the flours, baking powder, baking soda, and salt. In another bowl, combine the bananas, applesauce, honey, brown sugar, egg, and vanilla. Mix until well blended. Add the banana mixture to the flour mixture and stir just until moistened. Pour into prepared pan. Bake at 350 degrees F (175 degrees C) for 30 minutes or until a toothpick inserted into center of cake comes out clean. Cool in pan on a wire rack. To make the caramel topping: Combine the brown sugar, butter corn syrup , and vanilla in a small saucepan over
Lemon Blueberry Cake
This lemon blueberry cake is insanely good. The cake is moist and fluffy, with the perfect amount of tartness from the lemon. And the blueberries just take it over the top. It's the perfect cake for a summer picnic or potluck.
The best part about this cake is that it's so easy to make. You can have it in the oven in just a few minutes, and it will be ready to eat in no time. So if you're looking for an easy, delicious, and impressive cake recipe, this is the one for you.
Coconut Chocolate Cake
Assuming you want a coconut chocolate cake recipe:
Ingredients:
1 cup all-purpose flour
1 teaspoon baking powder
¼ teaspoon baking soda
½ cup unsweetened cocoa powder
½ cup (1 stick) unsalted butter, at room temperature
1 cup granulated sugar, divided
2 large eggs, beaten
⅓ cup milk
1 teaspoon vanilla extract
1½ cups shredded sweetened coconut flakes, divided
Instructions:
1. Preheat oven to 350°F and grease an 8-inch cake pan with butter. Set aside.
2. In a medium bowl, whisk together flour, baking powder, baking soda, and cocoa powder. Set aside.
3. In a large bowl or the bowl of a stand mixer, cream butter and sugar together until light and fluffy. Pour in beaten eggs and mix until combined.
4. Add milk and vanilla extract and mix until combined. Slowly add in the dry ingredients from the medium bowl, mixing until just combined.
5. Stir in 1 cup of the shredded coconut flakes. Pour batter into prepared cake pan and spread evenly with a spatula or spoon. Sprinkle remaining ½ cup of coconut flakes on top of batter.
6. Bake for about 35 minutes or until a toothpick inserted into the center of the cake comes out clean or with just a few crumbs attached. Allow cake to cool completely before serving or storing in an air
Red Velvet Cake
When it comes to cake, there are so many different flavors and textures to choose from. But if you're looking for something truly unique, try red velvet cake. This Southern classic is made with a chocolate cake base, and is traditionally iced with a creamy cheese frosting.
Red velvet cake is perfect for any occasion, but we think it's especially suited for lunchboxes. It's easy to transport and can be enjoyed at room temperature or cold (if you're in a hurry). Plus, it's just plain delicious. If you've never tried red velvet cake before, now is the time!
Tips for the perfect lunchbox cake
1. Get the right ingredients: When it comes to lunchbox cakes, you need to make sure you have the right ingredients on hand. This includes things like flour, sugar, butter, eggs, and baking powder.
2. Follow the recipe: Once you have all of your ingredients, it's important to follow the recipe to the letter. This will ensure that your cake turns out perfectly every time.
3. Don't overmix: Overmixing can lead to a tough cake, so be sure to mix just until everything is combined.
4. Use the right pan: Make sure you use a pan that is the correct size for your recipe. A too-small pan will result in a cake that doesn't cook evenly, while a too-large pan will make your cake dry out.
5. Preheat your oven: This step is important for ensuring that your cake cooks evenly throughout. Be sure to preheat your oven before getting started on your cake.
6. Bake until done: The key to a perfect lunchbox cake is baking it until it's just done. Overbaking will make your cake dry and crumbly, so be sure to keep an eye on it as it bakes